Benefits of Outsourcing for Startup Companies
Benefits of Outsourcing for Startup Companies
A startup is the business which is in its initial phase.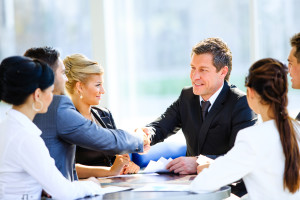 The early phase is really exciting and incredible as person is trying to put his vision and dream into reality. But at the same time it is difficult task since all ingredients must be input in adequate proportion to make it a success. Due to limited resources, many of these startups does not remain sustainable in the long term without any support from outside.
There are certain tasks, which the person understands over the passage of time that can be better handled by expert/professional of that field which ensures that those tasks can be completed efficiently and effectively. We do understand that even if person is very much talented and jack of all trades; he cannot be an expert of every matter and cannot handle every business matter singlehandedly.
This process of getting professional support from outside the business against some compensation is known as outsourcing. In outsourcing, a business process of service or whole department is contracted out to a third party against fixed payment.
If business hires out a third party/freelancer for bookkeeping or taxation purposes, it means company has outsourced its accounts departments. There are several areas of business that can be outsourced for example legal processes, accounting and taxes, customer service, payroll, benefits, human resources and recruiting etc. Although some experts contend that recruiting is one area that should be kept in-house.
There are several benefits of outsourcing the non-core processes and departments to experts and professionals
Startup owner and his team can focus on core processes of the business which will ultimately create unique value for the business.
Outsourcing can be more cost effective than having full time employee staff and there is an added benefit that one can quickly cancel the agreement in case of financial problems faced by the business.
In case of unsatisfactory performance of outsourced party, one can quickly analyze and change the party according to one's satisfaction.
The outsourced party brings in their expertise and will handle relevant matters in most professional way that will also support core processes of the business.
Business can save crucial expenditure on fixed assets as outsourced party brings its own equipment and tools which can put off major financial burden from the business.
As a startup, there is limited number of staff and hence limited amount of knowledge but with outsourcing, business is able to benefit from knowledge pool of a whole company or people, obtaining which would have taken a long period without external help.
In addition to the standard back-office processes, generation, public relations and designs lead by outsourcing can prove good choices at early stage as well.
It is better to have some advice regarding which processes are core for the business and hence should not be outsourced and which processes are of support nature which should be outsourced.
One should look at other founders, and learn from their experience regarding how they managed their startups, with business process outsourcing or without outsourcing.