Call Center Services
Call Center Outsourcing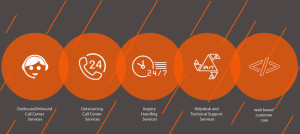 services is when a business has some call center agents working internally and some working for an external service provider. The external service provider supervises the employing, hiring, teaching, staffing and handling of their call center agents as well as the day-to-day operations for which they were contracted. Thus, Call center services is a lesser risk alternative to outsourcing and more lucrative than maintaining an entire Inbound Call Center staff of call center agents.
Companies often decide to outsource for strategic (customer segmentation) or operative (call volume uncertainty) reasons, or both. These use cases trace on some of the advantages that Outbound Call Center agents can carry. Below are the top 4 advantages of outsourcing a call center workforce that you can get at MDLLC.
Reduced costs
Outsourcing can be a more profitable solution to hiring and sustaining an entire call center workforce in-house. It decreases costs associated with recruitment a segment of call center agents (as the external service provider handles their own representatives).
Increases call quality during peak hours
Having a staff of outstandingly trained and well-informed off-premise call center agents that can handle calls within a second's notice can considerably improve service excellence during peak hours.
Decrease call rejection
When you contract out your overflow calls to an external service provider, long wait times and high caller abandonment rates will be a thing of the past. Every call will be answered in a timely fashion and your customers will love the expedited service.
Ensure business continuity
Hiring an outside Call Center services provider to handle calls when your call center software goes down, in the event of an adversity or emergency and your in-house call center agents can't make it into the workplace, or when there is a power outage, it can be a cost-effective solution to ensure business steadiness.