Offshore Software Development Outsourcing
Offshore Software Development Outsourcing
Mobile Application Development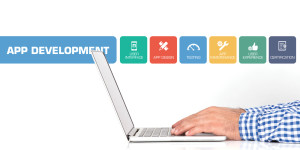 Manhattan Data LLC. is adevoted software development company focusing on rendering high-quality, cost effective, software development services that are built upon enterprise class technology. Our hands on experience in Architecture Software, Mobile Application, telecom sector, hardware sector, networking and security services guarantees that we proliferate your business value in a way that superlatively meets your organizations requirements and objectives.
Custom Development
MDLLC is the custom software development company offering multidimensional services. We consider in delivering incomparable results that offer the best value of your business. Our expert software engineers are specialists that work with you at every stage of the process as a devoted team to resolve your most complex software problems. Our helpful method across the organization cultivates imaginative intelligence that brings value in our software development. MDLLC works on newest Programming technologies such as ERP Solutions Provider Enterprise Solutions, Architecture Software Development and Mobile Application Development Services.
We attempt to live up to the expectations of our customers by ensuring that your dream of online presence and error-free back office systems is met expertly. Our expanded network enables our esteemed clients to obtain personalized and reliable services covering a wide range of areas in the business centers worldwide. By combining a broad range of technical expertise with an unparalleled commitment to client satisfaction, we have become a convincing option for companies looking for custom software development services, including supplementing in-house resources in the delivery of discrete project components, integration of the latest technology with existing enterprise infrastructure, creating complex interactive and multimedia environments. We have forward-looking approach as a company which has grown with the experience and valuable industry knowledge. Our aptitude to convert software development services requirements into software and web solutions gives us enormous confidence to serve your needs better. We work with a sheer bull-headed determination, because that's what we are.